Hardware
The x86 sub-node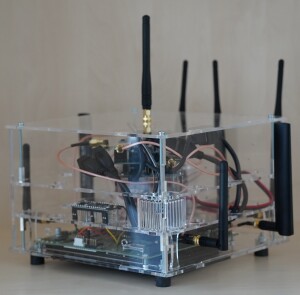 The x86 node uses an APU.3C4 mainboard and is connected to the MIoT-Lab Management System via Ethernet (IEEE 802.3). It is located at the first tier of the enclosure with a heat sink at the bottom tier as a cooling mechanism. It is connected to the embedded node as well as an ESP32 that is part of the Embedded Node.
| | |
| --- | --- |
| CPU | 1 GHz with 4 cores (x86_64 CPU) |
| RAM | 4 GiB |
| WiFi | WLE900VX (IEEE 802.11ac) |
---
The embedded sub-node

A STM32 NUCLEO-F767ZI provides the base of the embedded node. It is connected to a custom adapter board – mostly chosen to save on jumper wires – but it also comes with an RFM95W breakout board for the Semtech SX1276 LoRa transceiver as well as power monitoring. As the latter should not impact the power consumption of the NUCLEO-F767ZI it is connected to the ESP-32 instead. The Embedded Node offers a number of options for wireless connectivity covering three frequency bands (433 MHz, 868 MHz, 2.4 GHz) and a number of different data rates.
CPU

216 MHz

SRAM

512 KiB

Flash

2 MiB

Storage

Atmel AT24C256

sperate EEPROM storage

Sensors

SHT30 (temperature, humidity)

BME680 (temperature, humidity)

Tranceivers

Atmel AT86RF232

RFM95W (Semtech SX1276)

TI CC1101

Espressif ESP32 (via UART)

Nordic nRF24L01+

Power Measuring

2 × TI INA3221

Calibration/Configuration Storage

Atmel AT24C256
Sensores connected to the Adapter Board are the SHT30 (temperature and humidity inside the enclosure) and the BME680 (temperature and humidity outside the enclosure).
If needed it's capabilities of the embedded node can be scaled down to provide proper experimental circumstances of Internet-of-things nodes below class C2.